Emergency First Aid at Work. (Level 3) (6hr) & Emergency First Aid at Work – Industry Specific. (Level 3) (8hr)
FAIB Approved – Approval certificate number 150
The Course
This course would enable staff to be trained up to the level of an Appointed Person, i.e., be able to take responsibility for the First Aid in an emergency at work, and to maintain the first aid kit and record book in accordance with Health and Safety guidelines.
The course objective is that by the end of the day all students will be able to recognise potential emergency situations and know how to deal with them. The course can be modified to meet the First Aid Needs Assessment within specific working environments, but will cover the core topics: Assessment and prioritisation of the scene/patient, CPR, Catastrophic Injury & Shock, Recovery position, Care of the unconscious patient, Medical conditions: diabetes, asthma, heart conditions, Anaphylactic shock, Strokes, Epilepsy, Fainting, Choking, adult and child, Wound and fracture and burns care, First Aid Kit essentials
The course structure includes plenty of practical and practice to build confidence and competence. There are question and answer session, and space to revise areas that candidates may be unsure of. The specification for this course was revised by the HSE in 2009. Employers are currently advised to hold refresher sessions yearly to prevent skill degradation.
Course Certification
To complete the course there is summative and formative assessment. If successful, each candidate will be awarded a the nationally recognised Emergency First Aid at Work certificate with the specialisation noted which is valid for 3 years. The FAIB recommends that candidate complete yearly refresher training.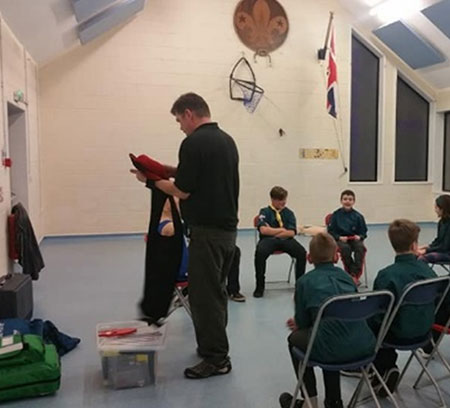 Contact us today
If you would like to book a course, or you have any questions on any of our available courses please do not hesitate to contact us at any time.
Tel: 07758 361165